everyone's problem
If your carrier does not have a tower near you, there's not much you can do to get any type of reception without assistance.
A cell phone tower with base station antennas is like a light house, and you are the wayward boat with a lantern (phone). Each base station antenna directs a ray of energy that must enter into your phone's signal coverage pattern, which by nature is not a sphere and typically fragmented. So the light house's narrow beam (frequency, pattern, gain and polarization) must connect with the glow emitted by your lantern. If there is no intersection, there is no coverage.
An example of why
antenna polarization
matters. You can be near a cell tower, but if your phone's antenna polarization is not aligned with the cell tower's base station antenna of your provider, you will experience weak or no signal. Since mobile phones are not in fixed positions, the burden of polarization alignment is placed on your wireless provider.
A Few Myths
Now let's debunk a few myths about connectivity and why, despite a couple sporadic claims, a successful real world case solution has yet to be engineered for the smartphone.
​1. If Power + Antenna = Connectivity
, then an amplified solution would be awesome. Not exactly. Your phone's system has a power regulator to safeguard you per FCC requirements. Amplified or boosted solutions, especially those near you, must be cleared as safe. And these solutions are costly, too big and/or have too much power to be designed safely into a smartphone case form factor.
Regarding the antenna part of the equation, the larger the antenna, the farther your reach. Your phone is designed to be sleek and appealing, so its internal antennas (and there are many) are small. Even worse, most are confined around electronics and metal, and that creates scattering and interference. Hence, the onus of connectivity, and the end user experience, falls upon your wireless service provider.
​
WavCatcher addresses these issues by giving your phone bigger ears.
Our case operates similar to a passive
repeater
, since it is a
passive radiator
that catches the phone's
RF
energy and re-radiates it to optimize your phone's signal coverage pattern. For example, the measured data below is from
our patented Broadband Notch Antennas element when tested independently in free space. As depicted, the antenna pattern is ideal
with a Peak Gain of 4+dBi
. The testing was conducted and certified by MET Laboratories, Inc.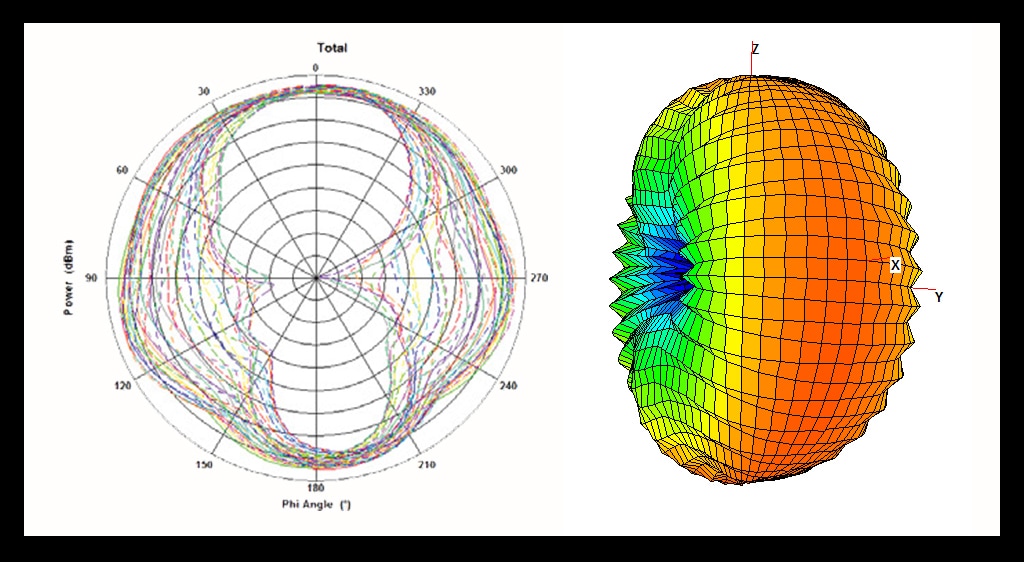 2. An Antenna's frequency band must match what the carrier's cell tower is broadcasting.
So you just can't stick something on your phone and claim to improve signal reception. The antennas in your phone are inherently narrowband which means they cover a specific frequency pipeline.
The problem is that narrowband antennas can be sensitive to detuning. Remember Antenna Gate for the iPhone 4? The end user's hand shifted the phone's frequency which induced loss of connectivity. The bumper add-on was a loading solution to minimize the detuning from the frequency shift.
Since WavCatcher is a broadband and frequency diverse solution, we essentially eliminate detuning issues.
For instance in the data below, the measured Return Loss is well below -15dB for the ultra broadband frequency range of 1.7 GHz to 2.9 GHz, and the measured Smith Chart Data is right at the center of the chart. If you'd like to understand more about why this matters, please check out
Antenna-Theory.com
from Dr. Bevelacqua of Google. It's excellent for the layperson.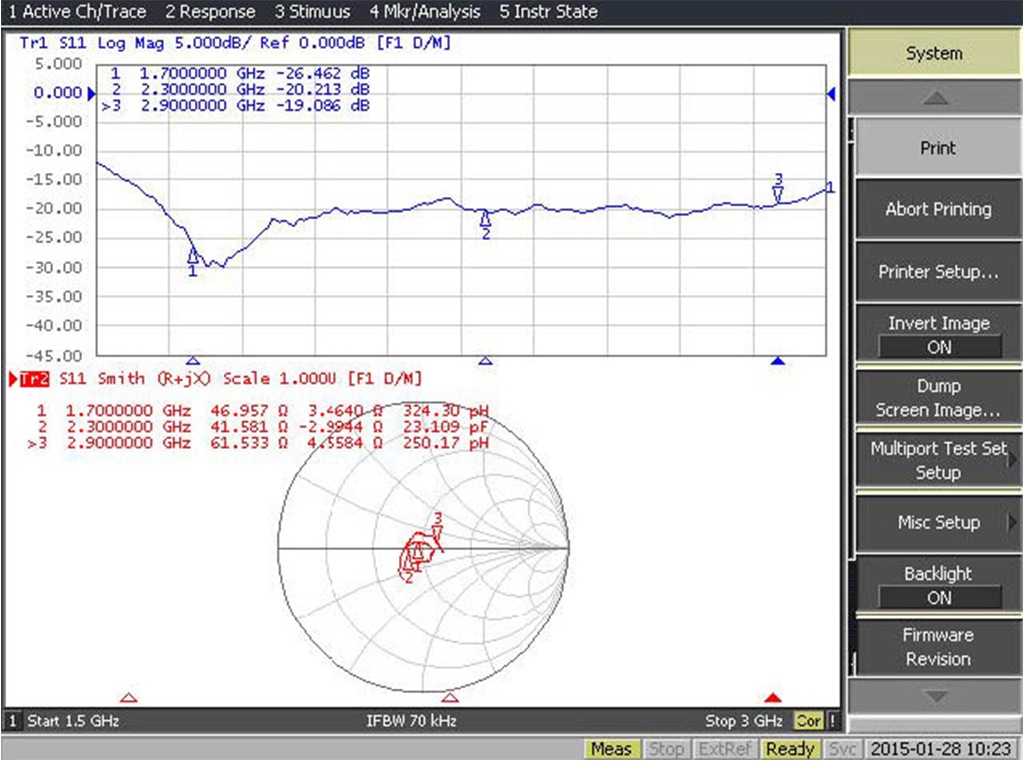 3. Signal Strength does not equal signal reception and quality.
Your bars are similar to a fuel gauge. It's not a precise measurement. Every phone has a signal strength meter which defines a bar by
dB
. Translation: -70dB to -120dB roughly equate to 5 bars to 1 bar. And that doesn't include what you are connected to.
LTE
, 4G, 3G, 1x, etc. are examples of data speed standards listed from fast to slow. You would rather have -110dB LTE (1-2 bars) than -80dB 3G (4-5 bars). And even if you don't move, these metrics can fluctuate based upon user traffic (think rush hour) and atmospheric conditions.
If you'd like to see your iPhone's metrics, go to your dial pad and enter:
*3001#12345#*
then hit send. You will see on the top left the numeric value where the bars used to be. Anyway, simply doubling your phone's signal strength, a 3dB improvement, is less than a bar. A 10dB improvement is 10 times the signal strength, and that's roughly one bar.
(iPhone 6 Teardown, courtesy of iFixit, Step 14)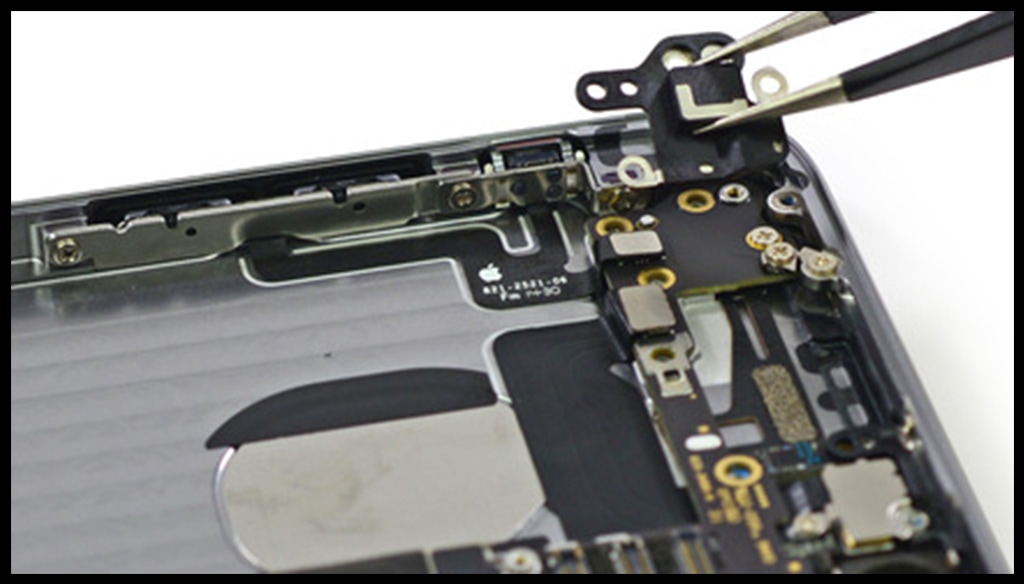 location matters
It starts with location. For example, were you aware that the primary cellular antennas in the iPhone are positioned at the bottom of your phone? Knowing the location of the antenna hot spots enables us to design a unique footprint that will improve your phone's cellular, WiFi and Bluetooth radiation patterns. Since we are not replacing a smartphone's existing narrowband antennas nor can we directly plug our multi-port antenna directly into the phone itself, a WavCatcher case is created by our patent pending process utilizing the synergy of the following building blocks.

Technology - Patented Broadband Notch Antennas (and other patents pending)

Engineering - Integration of "Hot Spots" for our Patent Pending Inductive Coupling Technique

Materials - The Right Dielectric for RF Performance AND Protection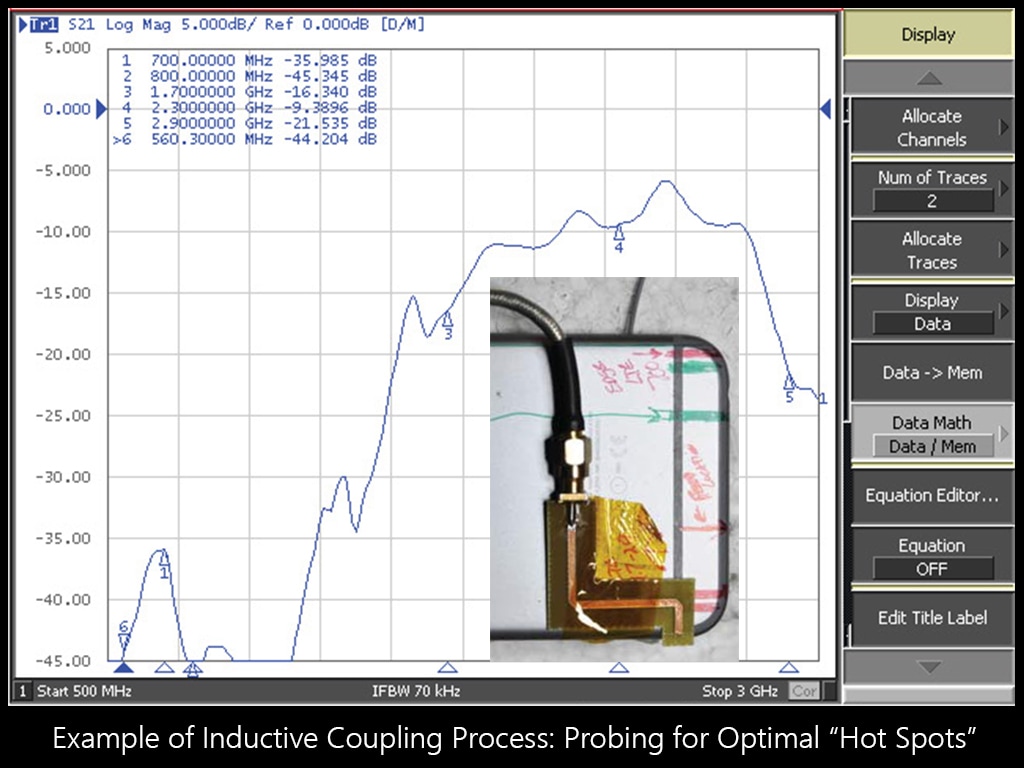 summary
WavCatcher cases are designed to optimize your smartphone and improve your mobile experience. Although it isn't the end all, it is the first step in breaking down signal limitations. Ultimately, we need your help as your feedback and support will help us create the next generation of WavCatcher solutions. That's how it worked for the first iPhone. The original was a flawed product that only succeeded because it had your support. Although wireless communication has come a long way, only together we can go farther.